It  only took me 4 kiddos, but I think I've figured out what's actually necessary (as far as things) for this season of mom life that I'm in. I've also figured out exactly what it takes  as far as material things to have a baby. We used to have a TON of baby gear and stuff, and come to find out, you can have a baby without all that stuff! 😉 Over the years I've gotten rid of most of it and over the past few months, I've been going through EVERYTHING in our house. Closets, cupboards, totes, storage areas, kids clothes, etc. I've only kept what we need, and it's been really nice. (Other than toys, because, well, Christmas….)   I decided to join the ranks of Ellen and Oprah this year and make my own version of 'My favorite things'.  Theses things have really helped me in life, no joke. And they have stood the test of time and kids, as many of these things we've had for 7 years and 4 kids worth of use! No dancing elves and no, I'm not giving away all of these things (but I did include links to Amazon!), but I thought it'd be fun to put together some the things that I find to be ah-mazing.
Sorry if I seem kind of excited about some of these things, but they really are great!
So, my top 10 favorite things: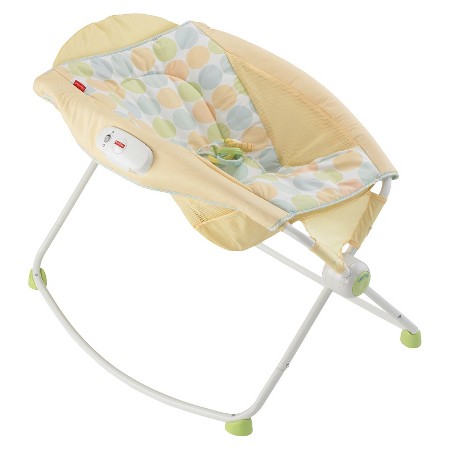 This thing is amazing. We didn't get it until #2, but I'd never go back to a bassinet or pack'n'play or whatever. My 3 girls have loved sleeping in it. Amelia loved it so much that she slept in it until she was 6 months old (whoops). The incline is great for reflux, the pad is removable to wash, and one is able to rock it with one hand while half falling out of bed at 3am. Yes, it's a keeper.
I own an iron. I bought it went I went off to college because I thought all 'adults' needed an iron. It never gets used. The whole idea of getting it out, plugging it in, putting it up high enough that no one can reach it, warning and re-warning all little people in the house to stay far, far away from said iron, laying down towels (no ironing table here), and then actually completing the ironing just sounds completely and utterly exhausting. I ain't got time for that. J got this steamer one year at Christmas and I thought he was nuts. Now, I use it all the time. Plug it in, wait approximately 60 seconds for it to warm up, run it quickly over your wrinkly clothes, unplug and lay it wherever because IT'S NOT HOT, then leave with wrinkle free clothes. Awesome. I might as well take my iron to Goodwill.
8) Prince Lionheart Faucet Extender
So Amelia is a climber, just like her brother. Before I discovered this little gadget Amelia would climb completely on top of the bathroom counter and sit there while she splashed water all over the sink, the counter, herself and anything else surrounding while she was supposed to just be washing her hands. Enter: the faucet extender. It makes it so little arms can reach the water without having to climb all over the place. Makes it so Amelia can independently wash her own hands without supervision, while I'm busy doing something else. Now we just need to work on the idea that one does not need to completely soak the hand towel  and then throw it over the shower curtain into the tub while washing one's hands. Every. Time. (where do they get this stuff?!).
Whoever invented this thing is my hero. Yes, one can swaddle their baby with a regular blanket. But everything you read as a mom freaks you out about SIDS and infants.  Loose blankets, baby being too hot, not having a fan on, etc etc etc ETC. Makes me worried sick. The swaddleme at least puts one's mind a little at ease because there are 3 velcro fasteners that don't allow the baby to get out of the wrap on their own, and don't allow the wrap to move or slide around on the baby while they're sleeping,.  The fear of the blanket shifting and covering baby's mouth or nose is gone. My kids have always slept better for the first few months while swaddled in these puppies. Yay for sleep!
I stopped carrying a purse quite awhile ago. I figure I won't need a purse for quite some time, as a diaper bag is my go-to bag for all the things.  I don't really mind, purses aren't really my thing. But this. This little gadget has been so great. G won it at a family holiday game and I thought it was kind of cool. I stuck it on the back of my phone and haven't had a real wallet since. No more wallet, no more purse, no more forgetting my ID/health insurance card/points card for Once Upon a Child (doesn't everyone have one of those?!).  I just keep it all together and toss the phone in my pocket or diaper bag to go anywhere. It's just about the handiest thing.
Yeah, yeah, it's a bib, so what's the big deal? Well! This bib has a pocket on the bottom to catch, yes catch all of the stuff that misses the baby's mouth. That equals less food and gunk all over the floor, the highchair, or the baby. It also can go in the DISHWASHER and is made of durable flexible plastic-rubber. One less thing to clean, and then it's ready for the next meal. We've had ours since G started eating solid food and it's still being used!
I stopped washing my hair everyday. Don't got time for that. It's getting long-ish and I'm going through that weird postpartum head hair loss which is utterly sad, as I've never had thick hair in my life and do enjoy that while pregnant! On days I don't wash my hair, I spray this stuff on and it works magic. No greasy hair, no weird colicks. Gives it a little volume and texture and it takes all of 1 minute to do. Mom score!
These were a huge revelation to me when I first found them. I rock the crock pot 3+ days a week at our house and washing it can be a beast. These things make cleanup about 60 seconds, and then the crockpot is ready for the next night, or tomorrow's breakfast! Love them!
This was a Pinterest steal, definitely not my own original idea! Next year we'll have 3 kiddos in school! Even this year, with 2 in school, we get a lot of papers, photos, artwork, projects, etc brought home. Everyday I sort through their stuff, pitch some, enter any dates of events, etc into my phone calendar then pitch that paper, and then we choose which important or cutesy things to keep, and I put them right into these files divided by grade. I put in any pictures from school, report cards, cute projects, nice artwork, things they wrote about themselves, certificates. I took me 1 evening to do this a few years back and was definitely time well spent. I'm not a scrapbooker, not even a little bit, but I feel like this way the kids will still have many memories of school, along with picture albums.
1) Second floor laundry room
HOORAY!!! This is my #1 for several reasons. It saves me a ridiculous amount of time and effort carting laundry up and down the basement stairs. The laundry is never sitting in the living room or hallway or stairs, waiting to be folded or put away. The kids can put their own away, as the room is only steps from their bedrooms and they won't dump it trying to walk up the stairs while carrying a stack of clothes. I have a place to hang my hanging clothes, finally. And Jeremiah and my Dad put several days of work into this room this summer so that my dream would come true, and that made me feel loved! In all honesty, this was a dream of mine from the time we started remodeling this house, no matter how nerdy that makes me!!! It's a small room, so difficult to get a picture of, but there's 2 hanging areas, one for shirts and one for dresses or longer clothes, a countertop for folding/stacking, a cupboard and shelves, a place to store baskets (or currently totes of baby girl clothes), and of course a washer and dryer. This means that we have TWO sets of washers and dryers, and you better believe I use both of them at the same time! Efficiency!
I hope you enjoyed my favorite things as much as I do 🙂